Wine Class at Vini e Fritti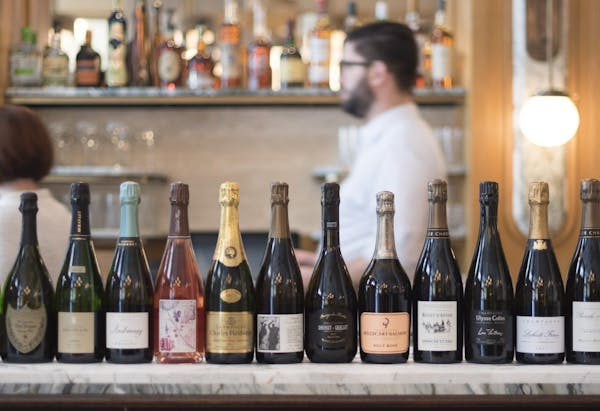 Saturday Wine Classes at Vini e Fritti
Increase your wine knowledge at our Saturday afternoon wine classes at Vini e Fritti, our wine bar in the Redbury Hotel. Each week, sommeliers from our sister restaurant Marta lead a wine tasting of a different wine region or style. Learn how to taste like a pro, the secrets to perfect food pairings, and the stories behind some of our favorite bottles. Perfect for libation lovers of any level.


Includes wines and light snacks
Saturdays, 2-3pm
Upcoming Classes:

Road Trip Through Champagne
Over the next few weeks, we'll be taking a journey through Champagne's main regions: Montagne de Reims, Vallee de la Marne, Cotes de Blancs, and the Aube! Learn about the fascinating differences between each region and how that translates into distinct, and delicious, wines.
August 17th - Road Trip Through Champagne: Cotes de Blancs
4 wines
The Cotes de Blancs is where Chardonnay reigns. The distinct chalky slopes of the Cotes de Blancs have been renown for centuries for providing champagnes with incredible elegance and finesse—these wines can age for decades! This class we will discuss pioneering producers and taste the many faces Chardonnay exhibits from the fascinating terroir of this region.

August 24th - Road Trip Through Champagne: The Aube
4 wines
This week we will be exploring the highly unique region of the Aube—the southernmost area of Champagne. The Aube is more often associated with the Burgundy and Chablis winemaking regions than to the rest of Champagne. Learn all about up-and-coming winemakers and taste how the similar Burgundian terroir contributes to wines of incredible depth, intensity, and longevity!

August 31st - The Many Shades of Rose
5 wines
'Rose' and 'summer' are practically ubiquitous; however, there is so much more to this ancient style of wine than meets the eye. Come explore the many shades and styles of rose and discover how this wine can and should be drunk all year long!

Producer Deep Dive Series
With our Producer Deep Dive Series, we are highlighting trailblazing winemakers who continue to set standards for quality, innovation, and making incredibly delicious wines.

September 7th - Producer Deep Dive: Paolo Bea
4 wines
Paolo Bea and his sons Giampiero and Giuseppe are natural winemakers in the heart of Montefalco in Umbria who are producing some of the most fascinating, age-worthy reds from the mysterious grape, Sagrantino, as well as some of the most interesting skin contact white wines. This is a cult classic you don't want to miss!

September 14th - Coastal Tour of Italy
This week we're jumping back into Italy by exploring the many interesting and delicious red and white wines from the country's extensive coastlines; from Rossese in Liguria, Pecorino in Abruzzo, Gaglioppo in Calabria and everything in between!

September 21st - Wines of a Certain Age
5 wines
This week we'll be answering that age-old question: what exactly happens to a bottle of wine as it gets older? How do different wines age differently? And finally: Why would you want to drink an old bottle? Come taste some exciting wines and discover the fascinating ways different grapes from different regions evolve and mature.

September 28th - Producer Deep Dive: Salvo Foti and the I Vigneri
Sicily might be the most exciting wine region in Italy at the moment, and one of its superstar producers is the living legend, Salvo Foti. Salvo Foti is considered the 'grandfather' of biodynamic winemaking on Sicily's active volcano, Mount Etna. Come taste wines from this vibrant volcanic terroir and learn about the members of Foti's winemaking organization I Vigneri.

October 5th - Reductive vs Oxidative Wines
5 Wines
There are many, many types of wines all over the world, but all pretty much made in one of two ways: in a completely oxygen-free environment (reductive) or with oxygen contact. From here, we can explore the many different ways producers can use (or prevent) oxygen exposure and how that decision affects the aromas and flavors of the final wine. The results might surprise you!

October 12th - Producer Deep Dive: Arianna Occhipinti
4 Wines
Sicily is quickly becoming the darling of the Italian wine world and it's because of superstar producers like Arianna Occhipinti! Located in the ancient region of Vittoria, Occhipinti is a trailblazer for biodynamic winemaking focusing on the quirky but fascinating indigenous grape of Frappato and Sicily's hometown hero: Nero d'Avola, along with a handful of other interesting varieties. Come check out an awesome female winemaker who if you don't know, you should!

October 19th - Trentino vs Alto-Adige: A Complex Identity
Trentino Alto-Adige is a region located in northern Italy with an incredibly storied past; up until WWI the region was part of the Austrian Empire and many people still speak German to this day. In this class, we will be exploring one of Italy's most complex and fascinating regions with incredible wines that are some of Italy's best-kept secrets. Discover powerhouse producers and mysterious grape varieties as well as some familiar faces with a quintessential Italian twist!
Past Classes:
White Wines of Friuli - Feb 16th
5 Wines
Do you like white wines with loads of character and crunchy minerality that are just downright awesome? Then join us in an exploration of Friuli, a region that blends Austrian, Italian, German influences into wines some say are the Italian equivalent to white Burgundy.
Wines of the Valle d'Aosta - Feb 23rd
5 Wines
Valle d'Aosta is home to some of Europe's highest vineyard sites and most interesting wines. Grape varieties you've never heard of (Prëmetta, anybody?) live alongside familiar French varieties, with an Italian and Swiss twist. Join us in exploring rare wines from Italy's smallest winemaking region.
How to Blind Taste - March 2nd
5 Wines
Blind tasting is one of the world's coolest party tricks. Learn the secrets of tasting wine like a pro in this class, and see how this skill helps you enjoy every wine you drink even more. We'll walk you through the appearance, aromas, and tastes of classic wines from around the world
Traditional Italian Producers Vs Modern Italian Producers - March 16th
4 wines
Enter the Barolo Wars: new barrique vs old botte, long vs short maceration… wait – what does all this even mean? Dive into what separates the modernists and the traditionalists of Barolo and Barbaresco, and learn why they're so different!

The Sparkling Wines of Italy - March 23rd
5 Wines
Explore the range of sparkling wines Italy has to offer. From Franciacorta and Prosecco to Lambrusco and other distinctive Italian sparklers, this is a great crash course in the bubbly delights of the boot.
How Wine Ages…Whites and Reds - March 30th (1pm)
5 Wines
What happens when wine ages? Does every wine need to be aged? Am I drinking this too young? We'll answer all of your questions about aging wines in this class – and you'll get a chance to taste new and old wines side by side, and learn what you prefer.
The Diversity of Sicily: Reds and Whites - April 13th
5 Wines
Sicily is red-hot right now – but it's not all about Etna! Sicily offers never-ending diversity, with tons of grapes, regions, and styles. Join us on this trip around the island, exploring some of the best wines you may have never heard of.

Island Wines - Reds and White - April 20th
5 Wines
There are islands off the coast of Italy producing some stellar juice! Join us for an island-hopping tour, tasting through some of the best-kept secrets in the world of Italian wine. Mainland Sicily may be the most famous, but don't forget about Sardegna, or Sicily's satellites of Pantellaria and Lipari. And while Corsica may not be Italian, it has plenty of Italian influences. We'll check them all out in this class.

Champagne - April 27th
4 Wines
DRINK MORE CHAMPAGNE. Right now could not be a more exciting time for Champagne. In this class, we'll explore the many styles of Champagne, and learn a bit about the growers themselves. Many young guns are taking over their family's houses, converting the vineyards to organic viticulture and focusing on single vineyard sites, which makes for better wines than ever.
Amphora Wines - May 11th
5 Wines
Explore wines aged in amphorae – clay jars buried underground. It's the most ancient method of winemaking, but it's coming back in a big way, led by some pioneering winemakers. We'll explore wines made in amphorae, the effects of amphora-aging on the finished wines, and why winemakers have gone back in time to revive this ancient tradition.
Reds of Piemonte - May 18th
5 Wines
Nebbiolo may be made into the famous Barolo and Barbaresco wines of Italy's Piedmont, but don't overlook all the other delightful red varieties from the region. Grignolino, freisa, pelaverga, dolcetto and brachetto… Piedmont is full of wines to explore. Get to know some of these gems, and learn why so many producers went out of their way to save them from extinction.
The best producers you've never heard of - May 25th
5 Wines
From Italy's north to south, we'll take you off the beaten track in well-known wine regions, and dive into more obscure regions, too, introducing you to under-the-radar gems that we love along the way.
Exploring Italy: How do I know what I like? - June 8th
5 Wines
Italy has so many different regions, grapes, and producers, it can be hard to learn what you like. Fear not! We'll walk you through the similarities between unfamiliar Italian wines and wines you might be more familiar with, like cabernet sauvignon, sauvignon blanc, chardonnay, or merlot. You'll leave more prepared to tackle an Italian wine list – and hopefully with some new favorite Italian wines.
Obscure wines of Italy – red and white - June 15th
5 Wines
Italy is full of hundreds of grape varieties, many of which you may have never heard of. We'll explore some obscure Italian wines and most importantly, we'll show you why they're so much fun to drink.
Chianti: More complex than you think! - June 22nd
5 Wines
Forget about the plonk your grandfather drank way back in the '70s! Chianti can be some of the best wine in the world, and we'll introduce you to some of our favorites. You'll learn how Chianti is made, and the different styles in the region. Block 6

Wines of Corsica! - July 6th
5 Wines
Corsica may be a French Island, but it's full of Italian influences, nowhere more so than in its wine. We'll introduce you to the three major grapes of the island – niellucciu, sciaccarellu, and vermentinu – and show you how they relate to wines you might already know and love.
Wines of Liguria - July 13th
5 Wines
Want to drink like you're on the Italian Riviera? This class will dive into the grapes and styles of Ligurian wine – may be one of Italy's best-kept secrets.
Toscana: What else is there beside Chianti…Understanding the super Tuscan and More - July 20th
5 Wines
Super Tuscans, wines made with international grapes like cabernet sauvignon and merlot, made a huge splash in Italian wine culture when they first appeared and kicked off a wave of international attention in Italian wine. Taste through a few Super Tuscans with us and decide: drink indigenous, or drink Super Tuscan?
August 3rd - Road Trip Through Champagne: Montagne de Reims
4 wines
The Montagne de Reims is the 'heart' of the Champagne region. This class we will be talking all about blending, the great Grand Crus, and what does a 'Grande Marques vs. grower-producer mean?"
August 10th - Road Trip Through Champagne: Vallee de la Marne
4 wines
The Vallee de la Marne is going through a renaissance in Champagne! Here we will be discussing the revolution of this historically undervalued region and its main grape: Meunier. We'll discuss how the challenging climate of the region has influenced the types of grapes grown, the styles of champagne made, and how innovative producers are pushing the envelope for quality.